Room Settings
Set the room phones and room status.
Go to Extra > Hotel > Configuration> General  to configure the room settings.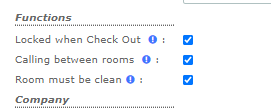 Locked When Check-out: After guests check out, room phones will be locked automatically, and can not be used to make outbound calls or internal calls between hotel rooms.
Calling Between Rooms: The Hotel guests in different rooms could call each other using the room phones.
Room Must Be Clean: The room status must be clean, or you cannot check in the guest with this room.