PBX Monitor
The PBX monitors the status of Trunks, Extensions, Concurrent Call, Conference.
You can log in the PBX web interface, go to PBX Monitor to check the real-time status of your trunks, extensions, and conferences.
Extension Status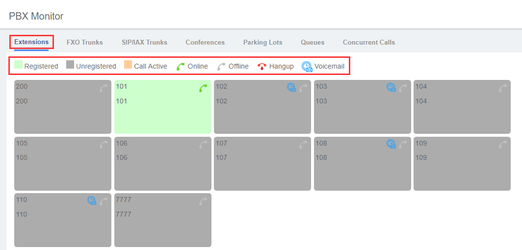 PSTN Trunk Status

VoIP Trunk Status

Monitor Conference
Check how many conferences are created on the PBX, and monitor the status of the conferences.

Concurrent Call
Check the maximum supported concurrent calls and the real-time concurrent calls on the PBX.