Resource Monitor and System Information
Monitor the CPU usage, memory usage, storage utilization,Processes Status, and Communication Activity.
You can go to System>Dashboard to check the information.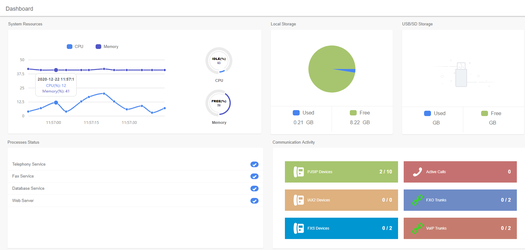 Processes Status
Check the performance of CPU and Memory
Storage utilization
Check the usage of local storage in the PBX. If you set up an external storage, you can also check the storage usage on this page.
Information
You can go to System> Preferences> About to check the basic information of the PBX.

Firmware Version
Module Name
FXO/FXS Number
Serial Number
Firmware Bulid
Hardware Version
System Firmware Build Time
Contact Address