Add Bulk Rooms
Add bulk rooms to help you improve the work efficiency.
Go to Extra>Hotel > Configuration > Room Setting> Room Setup , click Add Bulk.
Set the bulk rooms.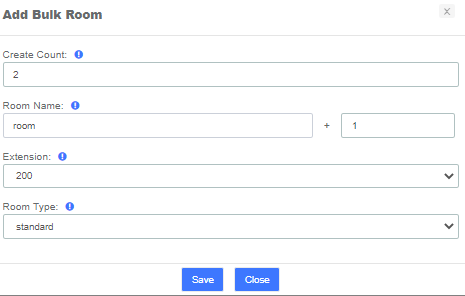 Create Amount: Set how many rooms to add.
Room Name: This setting is for the room name. You can set room name as "Room" +"Digits", the room number will then increase following the digits. For example, add 2 rooms in batch, and set the Room Name as "Room + 1", the room names for the 2 rooms will be "room1" and "room2".
Extensions : Set the extension for the rooms. Select the start extension number for the start room. The extension number will be assigned to the created room phone. For example, the start extension number is set as 200, room1 will be assigned 200 and room2 will be assigned 201.
Room Type: Choose the room type for the bulk rooms.
Note: You need to create extensions firstly before assign extension to rooms.
3. Click Save.