Hotel General Settings
Set the hotel information, currency unit, and Value Added Tax (VAT).
1.Set operating mode as hotel.
Go to Extras > Hotel > Configuration > General, select your operating mode as hotel and select functions.
Locked when check out: The extension in the room will be locked automatically and can not be used to dial outside numbers or extensions of other rooms when the customer checks out.
Calling between rooms: enable customers in different rooms make calls with each other.
Room must be clean: The room status must be "cleaned" before customers check in.

2. Set the hotel information.
Upload the logo, enter your hotel name, address, phone number and email. The hotel information will be displayed on the billing report.
Note: The mail sender must be configured in System > Email .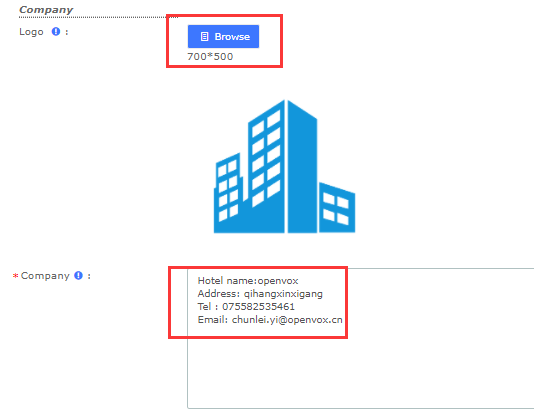 3. Set dial plan, Value Added Tax (VAT) and current discount.
In the same page, you can set prefix of the call, VAT and discount for the hotel.
Mini-bar Prefix: *37 is the default mini bar feature code.
Room clean Prefix: When the room needs to be cleaned, the customer can dial this number, the default number is *36.
Reception: reception number, the default number is 100.
Tax: you can set two VATS to choose.