Auto provision phones by Static Provisioning Server
You can upload desired phone(s) configurations File to the PBX, and auto provision the configurations to the users' phone.
Note:
After auto provision configurations to the users' phones, the existing configurations on their phones will disappear.
Auto provision configurations only works for the phones that were registered to the PBX via auto provision.
1. According to the requirements of different phone manufacturers,downloads the configurations file.
Take the Fanvil X1S phone as an examplem,to introduce how to downloads and edit the Configuretions.
Login the phone web page, go to System > Configurations,right click to save configurations in "txt" format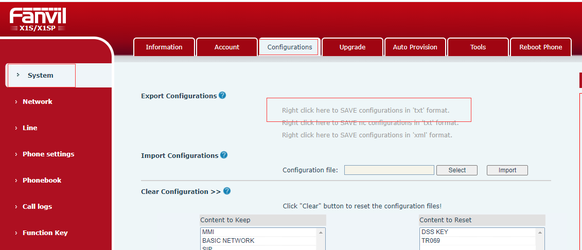 Use Notepad + + software to open the txt configuration file, add and edit SIP informations, then save the configuration file in cfg format,and make sure the file format is: Manufacturer_Model_MAC.cfg, For example: Fanvil_X1S_0c383e0fxxxx.cfg.
Login the phone web page, go to System > Auto Provision, and configure the Static Provisioning Server. Set the Server address as IP address of your PBX, and the Configurations File Name must be consistent with the previously downloaded configuration file name.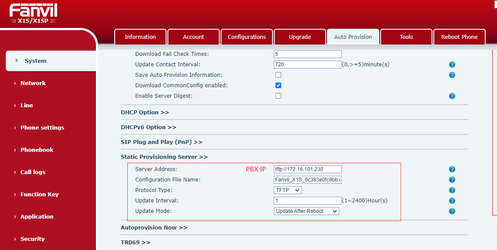 2. Go to Auto Provision > Upload Files, Click Upload a file to upload the file to PBX.

3. Click Upload,then you can see the uploaded configuration file on the page.
4. Reboot the phone(s) and update the configurations.
Note: You can also select the phone in the auto configuration Device List page, click Edit, and then click Save to restart the phone.