D1630E DE1630E Hardware Manual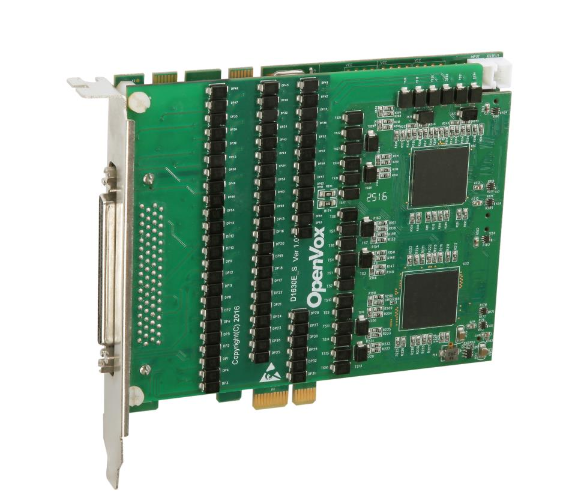 Safety Instructions

1. (a) The D1630E DE1630E is subject to specific national safety regulations during application.
2. Turn off the power before installing the D1630E DE1630E.
3. To prevent damage to the board by electrostatic induction, snap the card stopper to the PC with a screw
on the PC for grounding purposes.
4. (b) The electrostatic ring is essential during installation.
5. Please follow the instruction steps.
Chapter 1 Overview
1.1 D1630E DE1630E Introduction
The D1630E DE1630E is the most advanced 16-port T1/E1/J1 PCI interface voice card available in the open source community and offers the highest quality voice calls. The advanced innovation of this product not only ensures users to reduce system CPU usage by up to 70% after adjusting the interrupt frequency, but also modifies the product interrupt number so as to avoid interrupt number sharing or conflict.DE1630 consists of D1630 and hardware echo cancellation module based on Octasic® chip. T1, E1 and J1 modes can be freely selected for each card and even for each physical port. The Octasic® chip-based hardware echo cancellation module can eliminate echo tails up to 128ms or 1024taps on 512 channels in E1 mode or 384 channels in T1/J1 mode. the module takes full advantage of the Octasic® voice quality enhancement feature to ensure perfect sound quality on every call. The D1630E DE1630E supports industry standard telephone line and data protocols, including PRI ISDN (North American and European standards) protocols, PPP, Cisco, HDLC and Frame Relay data modes, as well as line and trunk interfaces.
The D1630E DE1630E supports Asterisk®, Issabel, FreeSWITCH™, Yate™ and other IPPBX/IVR open source project applications.
Typical Applications
High-performance ISDN BRI voice boards
VoIP services
IVR Applications
"Meet-Me" Conference Bridge
Calling Card Platform
VoIP gateways (SIP, H.323, and IAX support)
Traditional PBX/IVR services
Voice and data routers
Chapter 2 Hardware Installation
2.1 Channel Type Setting
Each DIP switch controls the mode of a channel. By setting the DIP switch, the channel can be set to E1 or T1 mode. When DIP1 is set to ON, it means channel one is E1 mode, and when DIP1 is set to OFF, it means channel one is T1 mode.
2.2 Card ID Setting
If there is only one card on your machine, the value corresponding to the knob should be set to 0. If two D1630E or DE1630E are installed at the same time, which means two identical cards are installed, the CardID of the card closest to the CPU should be set to "0 The CardID of the card closest to the CPU should be set to "0", the card farther away should be set to "1", and so on. The default state of the knob is 0.
2.3 Slot
D1630E DE1630E is compatible with industry standard PCI-E ×1, PCI-E ×2, PCI-E ×4, PCI-E ×8 and PCI-E ×16 slots, and is not compatible with any type of PCI slots. Users first need to confirm the slot type and insert the D1630E DE1630E vertically into any of the above PCI-E slots. The following figure depicts the four slot shapes.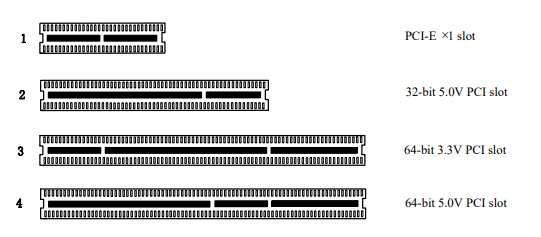 Figure 1 PCI and PCI-E Slot
2.4 Clock Lines
If the user has only one card, then all the channels on this card run at the same clock frequency, at this point, no clock lines are needed. If the user installs multiple cards on a machine at the same time, clock lines can provide many benefits. If clock lines are not used, each card runs at its own clock frequency to send and receive data, at which point accuracy is compromised. In voice data, this problem is negligible, but in data transmission such as fax and modem, it can lead to incalculable impact. Data loss will cause communication interruptions or even crashes. Clock lines allow all cards to operate under the same clock source, sending and receiving data at the same rate, without data loss.
If the user can find J914 (input) and J915 (output) interface on the card, it means this card supports clock line.
Other functions
Users can run the command " cat /proc/interrupts " to see if the D1630E DE1630E has independent interrupts, which can cause some problems if the D1630E DE1630E shares interrupts with other devices. the D1630E DE1630E supports changing the interrupt pin number during the firmware upgrade to avoid conflicts. You can check if the EC module is working by using the following command.
2.5 EC module identification and its enable
After completing the installation and configuration by referring to the corresponding board software installation manual, execute the command "dmesg | grep VPM" to check if the EC module is available.
[root@localhost ~]# dmesg | grep VPM
VPM450: echo cancellation for 512 channels
opvxd115 0000:20:00.0: VPM450: hardware DTMF disabled.
opvxd115 0000:20:00.0: VPM450: Present and operational
servicing 16 span(s)
Chapter 3 Reference List
www.openvox.cn
www.digium.com
www.asterisk.org
www.voip-info.org
www.asteriskguru.com
Warm Tips.
Users who encounter any problems during installation and use, please find answers and leave comments on OpenVox forum or wiki.
Appendix A Hardware Specifications
– Weight, Size
Weight: 170g(D1630E) 10g(EC)
Dimensions: 121 mm*18 mm*103 mm
– Interface
RJ48 interface
PCI-E PCI-E ×1, PCI-E ×2, PCI-E ×4, PCI-E ×8, and PCI-E ×16 slots
– Environment
Storage temperature: -65 ~ 125°C (D130P) -40 ~ 75°C (EC2032)
Operating temperature: 0 ~ 50°C
Humidity: 10 ~ 90% non-condensing
– Power Consumption
Voltage: 3.3V, 12V
Power loss: 5.2W (min) 7.8W (max)
-Hard and software configuration requirements
RAM 128+ MB
Linux kernel 2.4.X or 2.6.X
CPU 800+ MHz
Appendix B Jumper and connection method